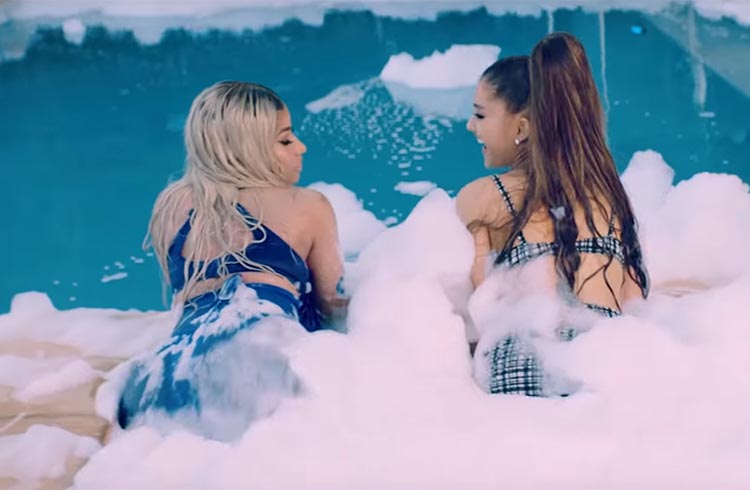 Nicki Minaj and Ariana Grande make a splash in the sexy video for their new collaboration "Bed."
Before the full video drops, Nicki has shared a teaser of the dreamy clip, which finds the rap queen and pop princess poolside in paradise. They cover themselves in bubbles and engage in some playful twerking in the pool. A blonde Nicki sips a bottle of MYX moscato and shows off her assets while donning a bikini as the waves crash against her.
Taking to Twitter, the ELLE cover girl revealed how the collaboration came together.
"I've had #Bed for over a year. The day Ari came by my studio I played her what I did on #TLIC (which comes out next week ????) and she offered to get on smthn for #Queen,"
said Nicki.
"I had been on the hook for a year so it never dawned on me to put someone else. Let me tell u smthn, Ari did it & sent it RIGHT back. Added all these beautiful harmonies & runs. Never over does it. Just ALWAYS gets it right. I fell in love. I called her screaming. OMG."
https://twitter.com/NICKIMINAJ/status/1007310645153300481
https://twitter.com/NICKIMINAJ/status/1007311515374968832
"Bed" is the second single off Minaj's upcoming fourth album Queen, due Aug. 10. Nicki can also be heard on Ariana's new single "The Light Is Coming," which drops tonight.
Watch the "Bed" teaser below.