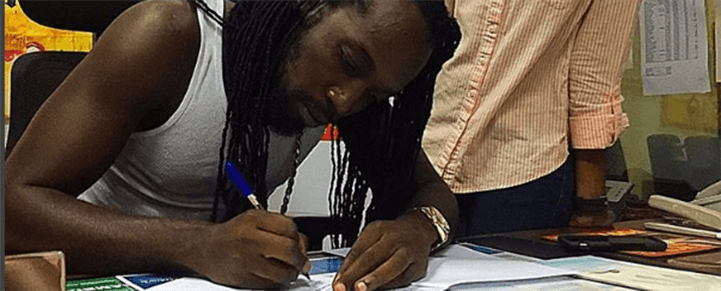 Mavado just copped land in Africa for free! On Saturday, May 13, the International Dancehall artist was given several acres of land in Gambia.
The tradition is seen as a gesture of honor gratitude love and respect in the West African country.
The gift was made by Global Properties Gambia Limited, "We saw it fit to say Thank You! and We Love You! to Mr. David Brooks [Mavado]," the company said in a press release. "Over the past 10 years in his musical career Mavado has changed the dancehall sound and inspired many in dancehall and around the world including Gambia to strive for better."
Sources tells The the media that Mavado received close to fifty acres, the "Fresh Cash" deejay shared the news on social media shortly after signing documents.+
"Gambians welcome me with love and respect, over the years the people have been waiting for me and here is my next home mama Africa. They want to build my next mansion here so just look at me signing ????now a one bag a teeth when u see mi????.," he wrote.
Mavado is set to perform in Gambia tonight at the Independence Stadium Bakau.
According to event organizers, the Gully Gad's performance will be the biggest show in Gambia in over a decade with over 25,000 tickets already sold.
The "Big League" deejay arrived in Gambia Thursday morning sending thousands of fans into a frenzy. Mavado was trapped inside the airport for hours after fans gathered outside to meet him, while driving to his hotel Gambians took to the streets to celebrate his arrival.
Sources tells The Tropixs that Mavado will be shooting a new music video while in the country.